'Tallest' man in Ho appeals for footwear
Charles Sogli, a 22-year-old man, who is nearly eight feet tall, has appealed for some customised footwear and working gear to keep him in his welding and metal fabrication job.
He also needs a special vehicle to aid his mobility.
The young man, believed to be the tallest man in the Volta Region, said he dropped out of school because he could not get footwear for the size of his feet and feared same fate could truncate his apprenticeship as a welder.
Sogli, comes from Ziope in the Agotime-Ziope District of the Volta Region.
He is the third of five siblings and the only one with the unique feature.
The young man told the Ghana News Agency (GNA) that he enrolled as a welder and metal fabricator apprentice in Ho about a year ago, with challenges of not getting appropriate footwear and working gear for the job.
Sogli also said it was difficult for him to use commercial vehicles due to his height, with many commercial drivers denying him their services.
Micheal DeSouza, Sogli's Master, described him (Soglo) as very "helpful and hardworking."
"He is a good, quiet and peaceful person. All he needs is appropriate footwear and working gear for his size and may be a special means of transport- a special car," he said.
Charles' foot measures 16 inches.
He told GNA a shoemaker got him a footwear for work but, " it is not protective."
Metal fabrication is the creation of metal structures, which involves cutting, bending and assembling processes.
Metal fabricators are expected to wear hard hats, goggles, gloves and safety shoes.

Source:GNA
MMDCEs Appointment: Police arrest ringleaders in Odododiodoo protest
The Police Service has arrested four residents in Odododiodoo for leading a protest in the constituency over the alleged removal of Chief Executive of the Accra Metropolitan Assembly (AMA), Mohammed Nii Adjei Sowah from office.
The four; Salaami Bukari, 36, Daniel Opare Oman, 43, Edward Holm, 38, and Daniel Clottey, 41, according to a press statement signed by Assistant Commissioner of Police, Kwesi Ofori, blocked a section of the road in Jamestown by burning tyres on Saturday.
Their actions, the police said, created fear and disorder in the constituency. The four were apprehended few hours after the protest.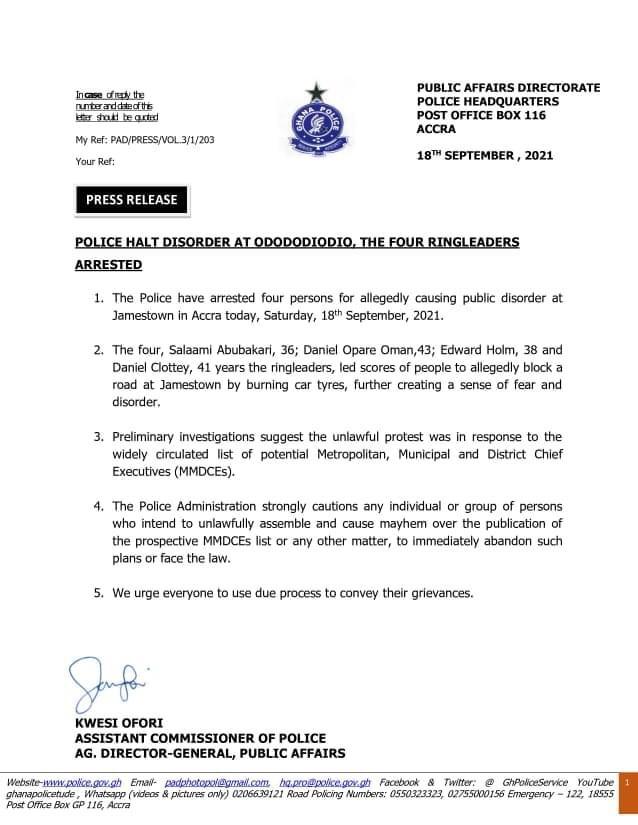 Source: m
Nat'l Security issues nationwide alert over MMDCEs announcement
The National Security Coordinator has issued security alerts to all security councils across the nation ahead of the announcement of metropolitan, municipal and district chief executives (MMDCEs).
The alert, captured in the form of a memo, has the subject: 'ANTICIPATING OF POSSIBLE VIOLENCE AHEAD OF THE ANNOUNCEMENT OF MMDCES'.
It was issued on Thursday, September 16 to chairs of regional security councils (REGSECs), municipal security councils (MUSECs) and district security councils (DISECs).
"There are indications of possible clashes ahead of the announcement of MMDCEs in parts of the country," it stated.
"REGSEC, MUSEC and DISEC are hereby urged to be on high alert to pre-empt breach of peace in the respective areas."
The announcement of the list is expected to be made on Sunday, September 19 by the Minister of Local Government, Decentralization and Rural Development, Daniel Botwe.
Already, pockets of violence have been recorded in some areas.
In Accra, for instance, some youth on Saturday, September 18 burnt tyres to protest the yet-to-be-known nominee of President Nana Addo Dankwa Akufo-Addo.
However, Chief Executive of the Accra Metropolitan Assembly (AMA) Mohammed Nii Adjei Sowah has called for calm and support for whoever the president nominates.
Source : 3News
I support the President's nomination – Adjei Sowah reacts to Odododiodoo MMDCE protests
The Chief Executive of the Accra Metropolitan Assembly (AMA), Mohammed Nii Adjei Sowah has condemned protests against the reported nomination of a new Mayor.
In a statement denouncing any form of protest in his name, Mr Sowah urged all well-meaning Ghanaians to support the President's nominations.
"I unequivocally denounce any form of disturbances in my name. As responsible citizens, we should recognise the president's authority to nominate individuals of his choice to promote his agenda and it's our duty to support the appointees to succeed," the statement said.
He added: "I totally support all the president's nominations and commit to continue to work towards the development of the country. I take this opportunity to call on all well-meaning Ghanaians, especially the NPP party faithful, to support His Excellency the President's nominations."
News of replacement
Multiple reports on news portals last Friday suggested that Mr Sowah was to be replaced by Madam Elizabeth Sackey, a former deputy regional minister for the Greater Accra region.
In reaction to those reports and the expected announcement of the Metropolitan Municipal and District Chief Executives (MMDCEs) tomorrow, some youth in the Odododiodio Constituency embarked on a protest today.
"As a true grass root [sic] and a loyalist of the Danquah-Busia-Dombo tradition, Mohammed Nii Adjei Sowah delivered Greater Accra against all odds by winning 21 seats as regional secretary in the 2016 elections, a portfolio he had held for two terms running. His appointment and having received a 100% confirmation on 24 March 2017 didn't come as a fluke," a statement issued by the youth said.
"Adjei Sowah has always prioritised sanitation which has long been an issue in Accra, at the nexus of public safety, public health, the informal economy (which employs about 75% of Accra's residents) and emissions contributing to climate change. He's constantly emphasised inclusivity and equity, which remains as his core work.
"He has been aligned to Accra's development and [has aligned the city's] budget framework to the Sustainable Development Goals (SDGs) [which] has helped to maintain principles amid this COVID-19 pandemic. Under his tenure, Accra has committed to publishing a Voluntary Local Review (VLR) to report on the progress towards equity and sustainability, which is a first of its kind," the statement said.
Arrests
Meanwhile, the Police have arrested four persons for allegedly causing public disorder at Jamestown during the "unlawful" protest.
The Police in a statement said: "The four, Salaami Abubakari, 36; Daniel Opare Oman,43; Edward Holm, 38 and Daniel Clottey, 41 years the ringleaders, led scores of people to allegedly block a road at Jamestown by burning car tyres, further creating a sense of fear and disorder".
"Preliminary investigations suggest the unlawful protest was in response to the widely circulated list of potential Metropolitan, Municipal and District Chief Executives (MMDCES).
"The Police Administration strongly cautions any individual or group of persons who intend to unlawfully assemble and cause mayhem over the publication of the prospective MMDCEs list or any other matter, to immediately abandon such plans or face the law".
Source: Graphiconline