Survival of the fittest: Rural women compete with animals for water
The lack of potable water in some rural communities in the Upper West Region has compelled women and children in such communities to compete with animals and reptiles for water for their domestic use.
THE SITUATION
Reports by the Ghana News Agency (GNA) in some of these communities including Damwaataeon and Zanko Paani in the Wa West District and Kaleo-bile in the Wa East District under the "Mobilizing the Media for Fighting covid-19″ project being implemented by the Journalists for Human Rights in collaboration with the Ghana Journalists Association (GJA)", revealed a very pathetic situation about access to water and other sanitation facilities as a right.
Madam Mercy Dasaa, a resident at Damwaateon, told the GNA that the streams which is their only source of water often dried-up during the harmattan leaving them with no choice than to dig dugouts before they could get water to fetch.
"Sometimes, if you are not lucky, you will dig and fetch some water and the time you will return the next day, animals would have come to drink and destroy it. You will have to dig again to fetch", she said.
Madam Dasaa said the only borehole in the community could not produce enough water during the dry season to serve the water needs of the community with more than 500 inhabitants.
Madam Agnes Diesob, another resident of the community said the situation impeded their economic activities in the community, as the women had to spend several hours at the stream or borehole in search of water for their domestic use.
At Zanko Paani, residents said they currently resort to pond water for domestic purposes such as cooking and drinking as the only borehole in the community had broken down.
Madam Iddrisu Marriama, a resident told the GNA in an interview that they were aware of the health risks associated with drinking from the pond but they have no option.
She said the population of the community overweighed the single borehole, which caused it to easily break down due to the excessive pressure on the facility.
You have come to see our problem. Our borehole often breaks down, so we fetch water from this pond… unfortunately, we are sharing this pond with animals", she said.
"I have been having stomach pains. I know it's because of the water, but there is nothing I can do," she emphasized.
Mr Iddrisu Daluo, another resident told the GNA that they have been contributing almost every month to fix the borehole, which had brought unnecessary financial pressure on the people.
At Kaleo-bile, a locally dug well and a nearby stream serve as the only source of water for residents in the community, which often get silted in the dry seasons making access to water a very big challenge for them.
According to members of the community, the situation has exposed them to waterborne diseases, thereby, affecting their productivity levels especially the women.
MAIN PROBLEM
The problem of some rural communities is poor health coupled with limited access to potable water.
The situation is further compounded in the dry seasons during which women cover long distances and spending hours competing with animals for water from streams and other open sources.
According to the Global Water Supply and Sanitation Assessment Report, over one billion people across the World do not have access to adequate and safe drinking water facilities with women and children being disproportionately affected.
Water is an essential prerequisite for development and growth, however, the situation where rural women spend hours every day, collecting and carting water directly from streams in competition with animals is a worrying development challenge.
Water is an essential basic need that must be available in order for human beings to survive and this must not be a luxury to these communities particularly women and children as they run their daily household chores.
SANITATION AND HEALTH
According to the World Health Organisation (WHO), safe and readily available water is important for public health, whether it is used for drinking, domestic use, food production or recreational purposes.
Improved water supply and sanitation, and better management of water resources, can boost countries' economic growth and can contribute greatly to poverty reduction, it said.
Also, it estimated that globally, at least 2 billion people use a drinking water source contaminated with faeces, adding that contaminated water can transmit diseases such as diarrhea, cholera, dysentery, typhoid, and polio.
Again, it said contaminated drinking water is estimated to cause 485,000 diarrheal deaths each year and that by 2025 half of the world's population will be living in water-stressed areas.
In 2010, the UN General Assembly explicitly recognized the human right to water and sanitation saying; "Everyone has the right to sufficient, continuous, safe, acceptable, physically accessible, and affordable water for personal and domestic use".
Sustainable Development Goal (SDG) target 6.1 calls for universal and equitable access to safe and affordable drinking water.
The target is tracked with the indicator of "safely managed drinking water services" – drinking water from an improved water source that is located on premises, available when needed, and free from faecal and priority chemical contamination.
IMPROVED SANITATION BENEFITS
Benefits of improved sanitation extend well beyond reducing the risk of diarrhea according to the WHO.
It include reducing the spread of intestinal worms, schistosomiasis and trachoma which are neglected tropical diseases causing suffering for millions across the globe.
Again, it includes the severity and impact of malnutrition; promoting dignity and boosting safety, particularly among women and girls; promoting school attendance: girls' school attendance is particularly boosted by the provision of separate sanitary facilities; and potential recovery of water, renewable energy and nutrients from faecal waste.
THE GHANA CONTEXT
Mr Eric Banye, Executive Director of Savannah Alliance Ghana noted that for many communities in Ghana, this target is far from reach.
"In Ghana, sharp geographic, socio-cultural and economic inequalities persist, not only between rural and urban areas but also in towns and cities where people living in low-income, informal, or illegal settlements usually have less access to improved sources of drinking-water than other residents", he emphasized.
According to Mr Banye, the Sustainable Water Supply project is a dream comes true for the communities that were carefully selected in collaboration with the respective district assemblies.
He said the high rate of water borne diseases sometimes leading to deaths has therefore become a major concern for stakeholders, hence, the initiation of the Direct Aid Project (DAP).
THE DIRECT AID PROGRAMME
The Sustainable Water Supply Project is one of the projects funded by the Australian High Commission under the DAP, which is a flexible, small grants programme.
The project is being implemented directly by Savannah Alliance Ghana, a local NGO in the Upper West Region with support from Azumah Resources, a mineral exploration and mining company operating in the region.
The aim is to support projects with a strong development focus that contribute to inclusive, sustainable economic growth and poverty reduction.
The primary objective of the DAP is to achieve a practical and tangible humanitarian or developmental outcome in vulnerable communities.
The areas include improving sanitation, waste services and facilities; improving services for people with disability or mental illness; strengthening accountability, transparency and good governance in the extractives sector; and promoting gender equality and empowering women and girls by supporting female-led organisations.
The projectdemonstrate consideration to gender and disability inclusion in the design and implementation by ensuring women and people with disabilities are consulted and included in the development of project proposals, as well as in their implementation.
PROJECT OBJECTIVES
The project seeks to ensure these beneficiary communities especially women, children and the physically challenged have access to potable water whilst their health status particularly with regards to waterborne diseases would also be improved.
This is expected to increase productivity as women, children and the physically challenged will now spend lesser hours in accessing and carting water from unsafe sources for their domestic use.
PROJECT OUTCOMES
Mr Eric Banye, Executive Director of Savannah Alliance Ghana said the project would ensure the drilling of seven boreholes and also train and equip seven Water and Sanitation (WATSAN) Committees with skills on water facility management as well.
He said in the end, a total of 5,000 women would have access to potable water whilst long distances covered and time spent in accessing water would be significantly reduced to enhance productivity.
EQUITY AND INCLUSION
Mr Banye noted that in line with the Australia High Commission's focus on equity and inclusion, the project had a strong inclusion and equity agenda.
"Women are fully involved in the site selection, drilling and management of the boreholes. The project also takes into consideration other vulnerable groupings including people with disability", he said.
BENEFICIARIES
In all, the Executive Director of Savannah Alliance Ghana said seven rural communities were selected across fourdistricts in the Upper West Region to benefit from the project.
They include, Leli, Musama, and Konne-Kakala communities in the Nadowli-Kaleo District; Jangfiang and Zinye communities in the Wa East District, Bapila community in the Nandom Municipality and Orifan community in the Jirapa Municipality.
CONCLUSION
The DAP being implemented by the Savannah Alliance Ghana and funded by the Australian High Commission through the Sustainable Water Supply Project to ensure beneficiary communities have access to safe sources of drinking water and sanitation facilities is commendable and worth emulation.
This is because tackling rural water and sanitation accessibility challenges must be a concern for all and the necessary resources galvanized to drive the agenda.
Government is doing well through the Sustainable Water Management Project but it is not over until all rural communities gain access to safe and sustainable access to potable water.
Rural women also have equal rights and must not continue to compete for water with animals which puts their health and that of their families at risk.
Source:GNA
Accra, a city of weeds! Tackling our culture of environmental neglect!
With so much biting, unrestrained and sometimes even cruel criticisms in the Ghanaian media, about every action and inaction of President Nana Akufo-Addo's administration, I really wonder what those expressing concern about a new 'culture of silence' actually mean.
Anyway, in my view, if anything, what is much more worrying, what needs to be talked about, but which is being ignored, is what can be termed 'a culture of negligence'.
I mean specifically, a 'culture of environmental neglect', defined by one source as "failure to care for and protect one's surroundings".
Shouldn't everybody be concerned, for example, that our capital city is practically being swallowed by weeds?
Why should the fertility of our soils be demonstrated by the amount of weeds flourishing everywhere in our country's principal city?
One person who has shown that he does care is the Greater Accra Regional Minister Henry Quartey.
But are people complementing his efforts, by at least brightening their own corner?
Isn't it the culture of negligence that has seen Ghana losing so much forest cover that now the Government has had to launch a crash tree-planting project to restore our forests?
Thus just over a month ago, on June 11, the 'Green Ghana Day' initiative, aimed at planting five million trees all over the country, took the country by storm.
But after the tree-planting, what next?
Secondly, the topical news currently is the amazing feat chalked by Mr. Quartey, getting the onion traders at the Agbogbloshie Market to relocate to Adjen Kotoku, near Amasaman, as part of his laudable 'Let's make Accra work' drive.
It is evident that others operating there will also have to relocate.
But after the relocations, what next?
What is to be done with the vacated area at Agbogbloshie?
I have one answer to both questions, a suggestion: why not develop the Agbogbloshie site into a green area, a park for the capital, to fulfil a long-felt need for an Accra City Park?
There is need for one, because clearly, the Efua Sutherland Children's Park, for instance, has a different purpose.
It would also serve to improve the Accra aura spectacularly as the backdrop to the developments in the city, the magnificent structures springing up all over.
Indeed, creating parks all over the country would be a fitting complement to the 'Green Ghana' programme.
Of course the initiators of the 'Green Ghana', and the Minister, may have plans for the next phase.
However, I'm hoping that the Government, and other stakeholders, will give consideration to my idea of converting Agbogbloshie into a park befitting Ghana's First City.
It also seems to me that now more than ever, as I have written a number of times, the Department of Parks and Gardens needs to be revived and resourced to play a lead role in the beautification of the capital city and other places.
As I have pointed out in this space, even in London which is seen as a very commercial city, surprisingly, a few minutes' walk left or right, away from the busy famous shopping street, Oxford Street, will take one to a park, including areas with seats to rest shopping-weary legs.
By one estimate there are as many as 25 parks in London, all phenomenal ones!
Again, South Korea where land for development is scarce and their capital, Seoul, surrounded by mountains, despite that, they have managed to decorate their streets with plants and flowers.
They have flowers in baskets hanging from the lampposts.
The neglect of Accra's spaces, especially with central reservations and road shoulders teeming with weeds, is bewildering – and shameful.
A few days ago, going around the city, what I saw confirmed that nothing has changed since the last time this column drew attention to the messy state of many Accra streets, including the N1, the George Walker Bush Highway: with a litter-strewn median and broken railings.
Regarding the Tetteh Quarshie Roundabout, how can this prime site and its environs be allowed to look like a weeds emporium?
Another example of the deplorable sights was the Ceremonial Route right from Legon, through the '37 Military Hospital, past Jubilee House to the Ako-Adjei Interchange.
The picture from the Ako-Adjei past the Nima Police Station and the Paloma Restaurant environs to the Kwame Nkrumah Circle was no better.
Unbelievably, on the High Street, both sides of that prestigiously-named thoroughfare were sprouting weeds, from the Courts Complex, through the Arts Centre to the open space in front of the General Post Office (GPO).
Most disappointing of all, even the fenced off mini spaces directly opposite the Bank of Ghana and the old office of the Accra Metropolitan Assembly, as well as that in front of the GPO, were all overgrown with weeds! Shocking!
Why has our capital become a city of weeds, as if Ghana is aiming to export weeds?
At Dansoman Estate, although I was happy to observe some saplings planted in the central reservation of the General Acheampong High Street, being nursed to grow into decorative trees, there was cause for concern.
Unbelievably, the Theresa Amerley Tagoe memorial roundabout, inaugurated with fanfare just last November, is displaying lots of weeds, one more evidence of the culture of neglect!
So I ask again: Why has the Department of Parks and Gardens been put on the back burner at a period when their expertise is needed as never before?
At least in the past we felt its presence because we used to see its staff busy at work, usually tending the medians.
Why does it seem that we revel in the unkempt appearance of the nation's capital?
Mr. Quartey, please bring on board the Department of Parks and Gardens!
Furthermore, Accra-dwellers need to appreciate that it will take a collective effort to give the capital the ambience worthy of a metropolis – and undoubtedly the rest of the country will take their cue from Accra.
Source:Graphiconline/ajoayeboahafari@yahoo.com 
Kumasi floods: Death toll rises to seven
The death toll in the Ashanti Region as a result of the recent floods has now reached seven.This was revealed to host of 3FM's Sunrise show Alfred Ocansey by the National Disaster Management Organisation (NADMO).
"Seven people have died so far," said the Ashanti Region NADMO Coordinator, Kwabena Nsenkyire, on Tuesday, June 29.
"As at [Monday], we were able to identify three 3 bodies and 4 were missing but through our search, we have discovered the extra bodies."
Speaking in an interview, Mr Nsenkyire said efforts are still ongoing to discover more bodies.
He noted that efforts have been put in place to distribute relief items to families who have been displaced as a result of the floods.
"We were lucky to have the regional minister and the Minister of Works and Housing, who charged authorities to ensure that enough support is given to displaced families and I can tell you and assure that something good for the families will definitely come out of it.
"We are yet to make any definite recommendation to ensuring that no further flooding is recorded in the region but engineers have been called for a proper engagement on this," he added.
Source:3 News
Tema Port Authorities Arrest 5 Containers of Rosewood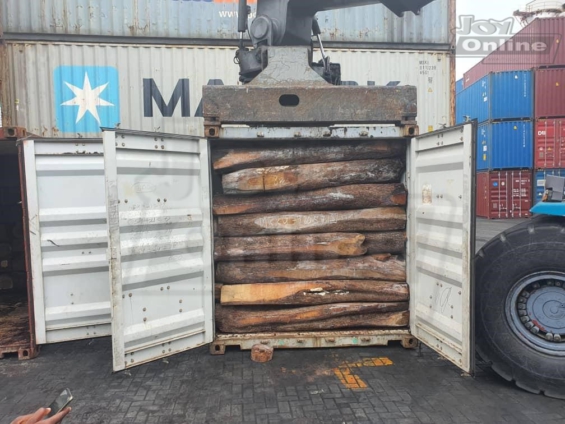 Five containers of rosewood meant for export have been impounded at the Tema Port.
The containers were impounded on 17th June 2021 after officials of the Energy Commission raised suspicion they possibly contained illegal charcoal.
Seizure notices were placed on the containers after Energy Commission officials raised red flag making it impossible for the containers to be exported.
When some of the containers were eventually opened about a week later, it was confirmed the logs were rosewood.The scheduled export was happening at a time when government has insisted it has banned the harvesting, transportation and export of rosewood as part of efforts to save the endangered species.
Lands and Natural Resources Minister Samuel Abu Jinapor says the ban which was first instituted in 2013 is still in force.
Joy News investigations have repeatedly revealed the illegal trade continues despite the ban.
Investigations by US based Environmental Investigation Agency, as well as investigations by Parliament's Lands and Natural Resources Committee, and the Ministry of Lands and Natural Resources have confirmed the illegal trade continues despite the ban.
Member of Parliament for Builsa South Dr. Clement Apaak who has been a staunch campaigner for an end to the illegal rosewood trade says he is disappointed the illegal export is still ongoing despite the ban.
Writing on Facebook, he said; "even as the new Minister for Lands and Natural Resources seems poised to lead the effort to green Ghana, the Illegal rosewood trade continues.
"How can Ghana be greened when officials and institutions are directly or indirectly through their complicity de-greening Ghana?"
"On Friday 25th June 2021, the Minister for Lands and Natural Resources, Hon. Abu Jinapor, appeared before the Public Accounts Committee of Parliament with a team from his Ministry to answer to infractions made against his Ministry in the Auditor Generals report on MDAs for the year ending December 2017.
"As would be expected, I sort permission from the Chairman of the committee to ask the Minister why after 5 years of a reinforced ban on the harvesting, transportation and export of rosewood continues…
"Apparently, on the same day, as a trusted source later alerted me, developments at the Tema port confirmed that the outrageous illegal trade was rife in spite of denials by officialdom, as many already know. A number of containers at the Tema port designated for shipment suspected to contain illegal charcoal, turned out to contain rosewood when opened," he wrote.
Dr. Apaak is alleging there is an attempt by influential people in society to cover up. "My sources tell me the manger of the terminal and the exporter tried to prevent Ghana Energy Commission officials from opening the containers by calling "big men" (corrupt, evil nation wrecker in my opinion). Present at the opening of the containers were Customs officials, Energy Commission officials, but interestingly, Forestry Commission officials, who were invited and had promised to show up, failed to be present. Are you suprised?" he quizzed.
"Simply put, the ban on illegal harvesting, transportation and export of rosewood remains a hoax. The same institutions, officials and entities expected to enforce the ban are not only overseeing its violation, but elements therein, are profiting from the destruction of the Savanna Ecological Forest," Dr. Apaak said.
"How can we claim to be greening Ghana when public, government officials and institutions are busy de-greening Ghana for personal gains?" he quizzed.
"In the meantime, I'm following the development closely. As well, I've filed a number of questions to the Minister for Lands and Natural Resources on the illegal harvesting, transportation and export of rosewood," he concluded.
Joy News understands a meeting has been scheduled for 10 am Monday morning at the Tema Port office of the Ghana Revenue Authority at which all parties including the exporters will decide on what to do with the containers of rosewood.
Source:Myjoyonline.com