Rebels kill Chad's president Idriss Déby
Chad's President Idriss Deby has died of injuries suffered on the frontline in the Sahel country's north, where he had gone to visit soldiers battling rebels, an army spokesman said on Tuesday.
Deby, 68, "has just breathed his last defending the sovereign nation on the battlefield" over the weekend, army spokesman General Azem Bermandoa Agouna said in a statement read out on state television.
The army said Deby had been commanding his army at the weekend as it battled against rebels who had launched a major incursion into the north of the country on election day.
The army said a military council led by the late president's 37-year-old son Mahamat Idriss Deby, a four-star general, would replace him. A curfew has been imposed and the country's borders have been shut in the wake of the sudden death of the president, army said.
The shock announcement came a day after Deby, who came to power in a rebellion in 1990, won a sixth term, as per provisional results released on Monday. Deby took 79.3 percent of the vote in the April 11 presidential election, the results showed.
Five government soldiers were killed and 36 were injured, he said.
Five government soldiers were killed and 36 were injured, he said.
Source: Aljazeera
Rabbit rearing venture keeps student's family going during pandemic
What you need to know:
His venture has kept his humble family going during the pandemic.
With schools closed since March, his venture has kept him busy throughout.
Seventeen-year-old Joseph Mwangi has every reason to smile.
His venture into rabbit rearing when schools were closed due to the outbreak of Covid-19 is paying dividends.
His rabbits rearing venture has kept his family afloat during these tough economic times.
Mwangi, a Form Three student at Damview Secondary School in Ndaragwa Constituency, Nyandarua County, says he started rearing rabbits as a hobby which has eventually turned into a lucrative venture.
"I started as a hobby because of my love for agriculture both as a subject in school and in practice. I also wanted something to keep me busy at home after the closure of learning institutions due to Covid-19," Mwangi says.
"I picked rabbit rearing because it does not need much monetary investment," the teenager told the Nation at his parents' home in Leshau area, Ndaragwa.
He says he started with two does and a buck which were between five and six months old; two California White and a Flemish Giant which he bought at Sh300 each from a neighbour.
"Now I have 33 rabbits from the three I bought in March, although I have sold some," says the teenager as he rushes to attend to a customer who had placed an order for two rabbits the previous day.
According to the young farmer, a rabbit matures in four to five months when the doe is ready for mating and the buck fat enough for slaughter and breeding purposes.
"The rabbits' gestation period is 32 days before it kindles between 6 and 12 kittens that mature in another four months," he notes.
It is not recommended for the rabbits to share a cage as a way of controlling breeding and cannibalism as they often fight, especially at night, according to Mwangi.
"For breeding purposes, one should always go for a healthy rabbit with appropriate body weight. It is also not recommended for one to use the male rabbits for breeding purposes when they are below five months of age to ensure a quality young rabbits," he adds.
Mwangi sells his rabbits to area residents and rabbit butcheries with the selling price determined by the weight, size and the rabbit's breed.
Mwangi says he sells a rabbit which is two to three months old at a price of between Sh100 and Sh200, whereas a four to five months old rabbit goes for between Sh300 and Sh800 each.
"On a bad week, I normally sell at least four rabbits making sales of about Sh1,200 while on a good week I sell up to eight rabbits and pocket Sh 2,400," explains Mwangi, adding that his mother has been of great help to him, especially in the marketing of the animals.
"When I started out, I didn't think of the market. But as my rabbits grew in number, I thought of making money from what I had started for fun," he explains.
With schools closed since March, his venture has kept him busy throughout.
Tending to his rabbits
"I am always busy, either I'm looking for rabbit feeds, constructing new cages or just watching them feed while I rest," he notes.
His mother, Mercy Njeri, reveals that her son spends most of his time tending to his rabbits.
"With my son, I have realised that rabbits are such friendly animals to keep. In addition, the starting capital is low, since he only started with two rabbits which have multiplied very fast,'' Ms Njeri says.
Mwangi says that he feeds his rabbits using fresh vegetables, weeds and maize jam. In addition, he gives them fresh water.
"Rabbit rearing is a very easy and entertaining venture and very profitable. Their feed is affordable and easy to get and the rabbits do not need much tending as compared to rearing of other farm animals," he notes.
The young farmer says he hopes to enter into a business agreement with rabbit meat processing companies in future and after completing his studies.
"At the moment I am focusing on completing my studies but I'm looking forward to becoming a large scale rabbit farmer," he adds.
Mr Joel Gitimu, who owns a rabbit butchery in Mairo Inya Township, says rabbit meat, being white, has quite a high demand.
"People have realised the benefit of rabbit meat and are now turning to it. This has increased the demand for rabbit meat," says Mr Gitmu.
At his butchery one kilogramme of rabbit meat goes for Sh500.
"Rabbit meat is first allowed to drip-dry under the sun or smoked, before it is fried, boiled or baked for a delicious meal."
Ms Angela Maina, a nutritionist in Nyahururu town notes that rabbit meat is among the best sources of protein and it is more nutritious than other meats.
According to the nutritionist, rabbit meat is rich in protein and is recommended for children with stunted growth and non-communicable diseases as a result of overdependence on Irish potatoes and cabbages for meals.
"Rabbit contains less fat and more protein as compared to turkey, beef, pork and chicken meat," says Ms Maina.
Nyandarua County Agriculture Executive, James Karitu notes that the county was working on breeding stocks at its Ol Joro Orok Agricultural Training College, while promoting consumption among residents for nutrients boost.
"The county has stunted growth amongst its population as a result of protein deficiency and over reliance on carbohydrates. Rabbit meat, coupled with pork that we are promoting among our families is the solution to provide our children and general population the much needed balanced diet," he adds.
Source: Nation Kenya
Schools in Morocco to teach Jewish history and culture
Rabat
Jewish history and culture in Morocco will soon be part of the school curriculum — a "first" in the region and in the North African country, where Islam is the state religion.
The decision "has the impact of a tsunami," said Serge Berdugo, secretary-general of the Council of Jewish Communities of Morocco.
It "is a first in the Arab world," he told AFP from Casablanca.
For years, although the kingdom had no official relationship with Israel, thousands of Jews of Moroccan origin visited the land of their ancestors, to celebrate religious holidays or make pilgrimages, including from Israel.
But Morocco this week became the fourth Arab nation since August to announce a US-brokered deal to normalise relations with Israel, following the United Arab Emirates, Bahrain and Sudan.
Liaison offices
Israeli Prime Minister Benjamin Netanyahu said liaison offices would be reopened in Tel Aviv and Rabat, which Morocco closed in 2000 at the start of the second Palestinian uprising, and full diplomatic relations would be established "as rapidly as possible".
Morocco confirmed the deal, saying King Mohammed VI had told outgoing US President Donald Trump his country had agreed to establish diplomatic relations with Israel "with minimal delay".
The decision to add Jewish history and culture to lessons was discreetly launched before the diplomatic deal was announced.
Part of an ongoing revamp of Morocco's school curriculum since 2014, the lessons will be included from next term for children in their final year of primary school, aged 11, the education ministry said.
The move aims to "highlight Morocco's diverse identity", according to Fouad Chafiqi, head of academic programmes at the ministry.
Expelled from Spain
Morocco's Jewish community has been present since antiquity and grew over the centuries, particularly with the arrival of Jews expelled from Spain by the Catholic kings after 1492.
At the end of the 1940s, Jewish Moroccans numbered about 250,000 — some 10 percent of the population.
Many left after the creation of the state of Israel in 1948, and the community now numbers around 3,000, still the largest in North Africa.
Jewish presence in Moroccan culture now appears in the primary-level social education curriculum, in a section dedicated to Sultan Sidi Mohammed Ben Abdellah, known as Mohammed III.
The 18th-century Alawite ruler chose the port of Mogador and its fortress, built by Portuguese colonists, to establish the coastal city of Essaouira.
Under his leadership, the diplomatic and commercial centre became the only city in the Islamic world counting a majority Jewish population, and at one point had 37 synagogues.
Historical records
"While there was a Jewish presence in Morocco before the 18th century, the only reliable historical records date back to that time," Chafiqi said.
Two US-based Jewish associations — the American Sephardi Federation (ASF) and the Conference of Presidents of Major American Jewish Organizations (COP) — said they "worked closely with the Kingdom of Morocco and the Moroccan Jewish community" on the "groundbreaking" academic reform.
"Ensuring Moroccan students learn about the totality of their proud history of tolerance, including Morocco's philo-Semitism, is an inoculation against extremism," leaders of the two organisations said in a statement published on Twitter last month.
Also in November, Education Minister Said Amzazi and the heads of two Moroccan associations signed a partnership agreement "for the promotion of values of tolerance, diversity and coexistence in schools and universities".
The accord was symbolically inked at Essaouira's "House of Memory", which celebrates the historic coexistence of the city's Jewish and Muslim communities.
Among those present was Andre Azoulay, a member of the local Jewish community who is also an adviser to King Mohammed VI.
Tolerant Islam
The king, Morocco's "Commander of the Faithful", has pushed for a tolerant Islam that ensures freedom of worship for Jews and foreign Christians.
In September 2018, at a UN roundtable, he emphasised the role of education in the fight against racism and anti-Semitism.
Morocco "has never erased its Jewish memory," said Zhor Rehihil, curator of Casablanca's Moroccan Jewish Museum — the only one of its kind in the region.
History teacher Mohammed Hatimi said introducing Jewish identity into Morocco's education programme would help nurture "future citizens conscious of their diverse heritage".
The move will also be part of a revision of the secondary school curriculum set for next year, according to Chafiqi from the education ministry.
Source: Nation Kenya
South Africa Chief Justice under fire for calling COVID-19 vaccine satanic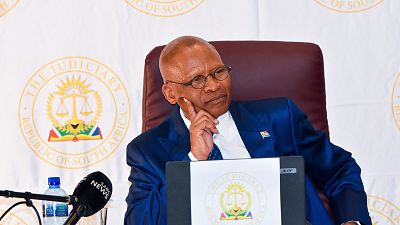 South Africa's chief justice on Friday vehemently defended a prayer he made against "satanic" Covid-19 vaccines, seeming to refer to a conspiracy theory that they could "infuse 666" into people's DNA.
Mogoeng Mogoeng, a devout Christian, came under strong criticism on social media following the prayer at an event in Johannesburg on Thursday to honour people who died from Covid-19 in Africa's hardest-hit country.
"I lockout every demon of Covid-19, I lock out any vaccine that is not of you, if there be any vaccine that is of the devil meant to infuse 666 in the lives of people, meant to corrupt your DNA," he said in the prayer.
On Friday he told a media conference that he would not be dissuaded from speaking against or praying against possible "satanic" vaccines.
"You can't say we must, as Christians, just fold our arms and say 'whatever people come with' is fine. No. We can't," he said.
"If there is a vaccine with 666, I want God to destroy it. If there is any vaccine meant to corrupt the DNA of people, I'm asking God to interrupt it. Any clean vaccine, they must produce it quickly," he said.
On Wednesday South Africa declared that it had entered a second wave of the pandemic as the number of new infections surged, with nearly 837,000 cumulative cases and more than 22,700 deaths.
The government has warned against spreading misinformation about the coronavirus, as it waits to secure its first vaccine doses through the COVAX global distribution scheme.
But Mogoeng said he was unfazed by any backlash and that nothing stopped him from commenting on any issues because of his judicial responsibilities.
"This is a free country. I'm not going to be silenced. I don't care about the consequences," he said.
In June this year the judge sparked an outcry for remarks seen as pledging support for Israel.
"I cannot, as a Christian, do anything other than love and pray for Israel," he said then.
Source:africanews