Otumfuo fights unemployment with Entrepreneurship Challenge among start-ups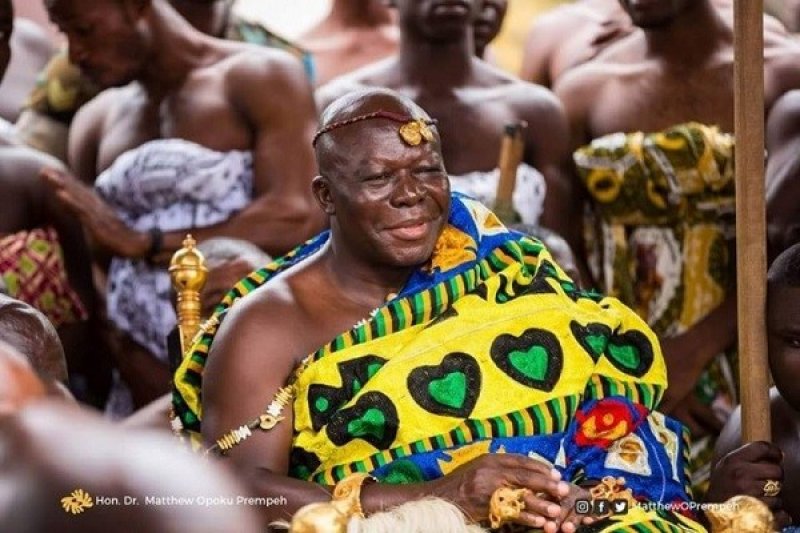 About ten thousand businesses and start-ups are up to benefit from a new initiative by the Asantehene, Otumfuo Osei Tutu II, as a tool to rebuilding after Covid-19 through an authentic entrepreneurship renaissance.
Known as the Otumfuo Entrepreneurship Challenge, it is aimed at addressing both underemployment and the unemployment situation in the Ashanti region and by extension Ghana.
The main objective is to provide relevant support for the youth in the Ashanti Region to start, grow, build and expand their businesses.
Under the auspices of the Otumfuo Osei Tutu the Second Foundation, the project is expected to last for five years, after which depending on the success will be extended.The project will be implemented by industry players and experts from the Foundation and professionals from Ashesi University.
Project Lead, Michael Kwatia says the initiative comes from Asanteman aimed at mainly helping Asanteman youth to start and grow businesses that will create wealth.
"…we are targeting to engage with over ten thousand businesses, and provide direct support to about 1,000 businesses, and financial to support to over 50 businesses over the five-year period".
The challenge will also target the indigenous businesses and empower them.
Mr Kwatia is positive this will address the challenges businesses face in the informal sector."…one of the things we hope this project will achieve is a lot of formalization of the informal sector businesses. So it is not a project designed for high-level business projects but rather our indigenous type of businesses that solves our daily problems, that we can help grow and expand.
The Challenge begins on November 1. The form will be through an application online.
Officials say once an application satisfies the main objectives of being able to create jobs and skills and solve local problems then the expert job is to help these businesses grow over a period of time.
Source: Myjoyonline
MPs meet CLOGSAG; hopeful strike will be called off soon
The impact of the strike by CLOGSAG is now hitting Parliament, as Members of  Parliament's  Local Government Committee say they cannot access their Common Fund because Local Government staff who are supposed to help with the documentation are on strike.
This came up after a meeting between members of the Local Government Committee and leadership of CLOGSAG in Parliament on Monday, May 9, 2022.
Addressing the media after the meeting, the Vice Chairman of the Local Government Committee of Parliament, Suleman Adamu Sanid expressed optimism that members of CLOGSAG will resume work soon.
"Every MP is affected by the strike. There are so many things that we are trying to process, but we cannot do. If things go through, I'm sure it [strike] will be resolved in no time. Let's remain positive," he said.
Suleman Sanid also indicated that the committee will consider engaging the Fair Wages and Salaries Commission (FWSC) for a permanent solution to the problem.
"We are looking at engaging the FWSC because they've been in existence for so long, and we still have strike actions here and there. We want to engage them to really understand what is still holding them and causing some of these things so that as a country we can see how to address this. If FWSC doesn't have the necessary legislative tools, we can do that so that this perineal issues of strikes here and there will be a thing of the past," he said.
Meanwhile, the Member of Parliament for Odododiodoo, Nii Lante Vanderpuye says they'll consider making a statement on the floor of the House upon resumption of Parliament to address the issue of wide disparity in salaries of public sector workers, which is the cause of most labour agitations.
"We did make the appeal to them (CLOGSAG) in the interest of Ghana. All of us are feeling it and that is why Parliament has been invited to come in. For MPs, our Common Fund releases at the assemblies cannot be worked on. We thought that our appeal hit CLOGSAG, and they've given us assurance, so let's pray that what they are looking for, they will get it so that they can resume work. We have taken a decision that on resumption of the house, we shall make a statement on this issue of disparity of the wage structure of the various labour organization so that as a country we take a look one more time on wage and workers' conditions of service to resolve this," he said.
Source: Citinewsroom.com
CLOGSAG strike biting hard as many seeking gov't services are left stranded
Many applicants who attempted to register or renew their businesses at the Registrar General's Department in Accra were left disappointed on Thursday, May 5, 2022, following the industrial action by members of the Civil and Local Government Staff Association Ghana, (CLOGSAG).
The applicants left in disappointment due to the ongoing strike by CLOGSAG.
CLOGSAG is demanding that the government honours a payment plan for their Political Neutrality Allowance agreed on in January 2022.
Some of the affected applicants who were not attended to shared their frustrations with Citi News.
"I cannot enter because they are on strike. It is not good news because, in business, every day counts."
"I came all the way from Kasoa, and I was told that they are on strike. I am very disappointed. I traveled quite a distance, and they are not able to tell me when they will resume", another said.
Another applicant said, "there is nobody, and the machines have been put off with no service being rendered. I am so disappointed."
"I have started a new business and I want to register, and I came all the way from Spintex. I just realized they are on strike because I didn't know about it", one other person mentioned.
At the Accra Metropolitan Assembly, officials said they have been gravely affected by the ongoing strike.
According to the assembly, some of its functions have stalled over the period due to the action.
Speaking to Citi News, the Presiding Member of the Accra Metropolitan Assembly, Alfred Adjei, appealed to members of CLOGSAG and the government to find a common ground in resolving their concerns.
"CLOGSAG forms an integral part of the Assembly's structure and administration. Without them, you can never run the assembly effectively. Whatever decision we want to take, they must guide it because they are the technocrats, so their absence is really affecting us" he lamented.
Source: Citinewsroom. com
'Expect serious unrests on labour front if salaries aren't improved' – TUC warns
The Trades Union Congress (TUC), has warned of more unrests in the labour front if the government fails to protect jobs and consider an upward review of salaries before June 2022.
The Secretary General of the TUC, Dr. Anthony Baah, said over the past six years, his administration has sought to use dialogue to resolve issues with their employer, the government, but that has achieved very little results.
While speaking on The Point of View on Citi TV on Wednesday, Mr. Baah said workers will resort to other unpleasant means to press home their demands due to the government's reluctance to give them their due.
"We resort to talking and dialogue and we have been doing this for at least over the last six years, and there is no result to show for it and that is why there is anger. This is the signal that I gave, to let government know that if they do not listen to us through the dialogue, we will do what trade unions do. If government doesn't change its way of doing things in terms of protecting incomes and jobs, I can tell you that things will happen," he said.
The Trades Union Congress has recently heightened its call on the government to deal with the low wages they earn.
They have thus backed moves for the setting up of a committee towards reviewing the Single Spine Pay Policy.
But Dr. Baah is warning that there may be serious unrests on the labour front if their warnings are not heeded.
"Reviewing the Single Spine Pay Policy and making sure our incomes are protected is our priority. If inflation keeps going up, it will come to a point where we can't take it anymore, and that will start serious labour unrests in this country which will not be good for us," he said.
Source: Citinewsroom. com