Mum prayed and fasted for dad to be rich; he cheated on her as soon as he did – Lady cries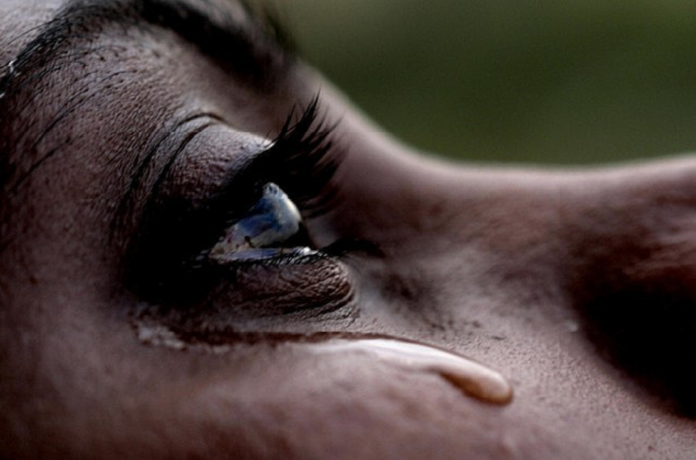 A sad netizen has chosen to find solace on social media after finding out her father has been cheating on her mum with ladies her age.
The lady, who asked well-known Ghanaian actress, Kafui Danku to anonymously share her story on her verified Facebook account recounted that she harbours hatred towards her father given what he has been doing to her mother.
She narrated that, her mother, though uneducated, is very knowledgeable in terms of home management and loves her father a lot.
The anonymous lady said her mother used to fast and pray at midnight for her dad when he had no money.
Her father eventually made it but decided to stab her mother in the back by having affairs.
The sad young lady said her father dates younger girls now. Recently, her mother confided in her saying she has noticed a change in attitude from her father, the lady revealed.
According to her, the father has stopped giving her mother money for housekeeping and anytime she asks for money, he would brush her off saying, "take money from your business, I will refund it."
The worried daughter says she is scared to tell her mother what is going on. Her mother has issues with blood pressure and she fears, letting her in on what is ongoing might harm her.
Source: Adomonline
Ghana Records Surge In HIV Cases Among Pregnant Women – NACP
Manager, National AIDS/STI Control Programme, Dr. Stephen Ayisi Addo, has said there was a surge in cases of HIV cases among pregnant women in the country attributable to the increased confidence infertility among persons living with HIV.
According to him, Data analysis in a Sentinel Survey conducted in 2020 revealed that women who had been pregnant more than once had a higher prevalence compared to first pregnancies partly because of their confidence that they could have healthy babies.
The study, he noted, further showed that prevalence among general Antenatal Care (ANC) clients was two per cent and among those with Sexually Transmitted Infections (STIs) such chlamydia, gonorrhoea, syphilis among others was ten per cent in 2020.
Data from the HIV Estimates and AIDS Projections report also revealed that, 5,200 new infections of HIV were recorded in children 0-14 out of a total population of about 19,000 in 2020 and out of the number, 82 per cent were females including pregnant women.
Since the first case of HIV in 1986, there were currently 346,120 people leaving with HIV as at the end of 2020, with 66 per cent of the figure being females and about eight per cent children aged 0-14.
Dr. Ayisi Addo, speaking at the seventh edition of the Stakeholder Engagement and Worker Appreciation Seminar" organised by the Tema Regional Office of the Ghana News Agency said, hitherto, persons who tested positive and became pregnant, assumed that their babies would become automatically positive often leading to abandonment of the babies.
The Stakeholder Engagement is a platform rolled-out for state and non-state actors to address national issues and serves as a motivational mechanism to recognize the editorial contribution of reporters towards national development in general and growth and promotion of the Tema GNA as the industrial news hub.
He said HIV suppressed fertility, and persons who tested positive and were not on treatment had their fertility robustness reduced as a result of the viral effect, adding that with treatment, "some persons were delivering healthy twins."
"Because of the elimination of mother to child transmission programme where certain interventions are given to a positive mother to prevent transmission to baby, they are giving birth to more negative babies, which is good for the HIV control Programme," he said.
He, however, indicated that that confidence and assuredness was making persons living with HIV think then that, they could have more babies, and once that happened, the risk of reinfection and new transmission to partners remained.
He reiterated that the risk still persisted because transmission could occur during conception, labour and delivery and during breastfeeding, and said if the woman was not adherent to medications, it could lead to an even higher risk of transmission to babies.
He stated that to deal with the disturbing trend, family planning services and education must be intensified to prevent unintended pregnancies among persons living with HIV, and the need to empower vulnerable females to be more assertive in dealing with potential sources of infection.
In lowering the trend further, he said NACP was working with collaborative agencies, the Ministries of Gender and Social Protection, Education and Health to empower them to be free from HIV, and emphasised that "when you take emergency contraception to prevent pregnancy, it does not deal with STIs and HIV as it only prevents pregnancy."

Dr. Ayisi Addo explained that "the face of HIV has changed positively because of treatment but in ensuring that people live normal lives and not think HIV is no longer an issue and be careless and spread it, education must be intensified."

Source: GNA
'Breast milk is not meant for the eye'
Mrs Ama Henrietta Serchie, an Ophthalmic Nurse at the Hohoe Municipal Hospital, has called on the public to desist from putting drops of breast milk on their eyes as a treatment when they have eye conditions.
"Breast milk is not meant for the eye. It is meant for babies and it can transfer infections from the mother to the one putting it on the eye. Anything can happen."
Mrs Serchie in an interview with the Ghana News Agency (GNA) during a free eye screening and surgical operations organised by Lifetime Wells Vision in collaboration with Friends Eye Centre from Tamale and Kumasi, advised people experiencing itchy eyes to seek medical help and stop rubbing their eyes.
She said people must avoid using seawater and herbal medicines as a form of treatment for their eyes anytime they felt there was a problem.
The Ophthalmic Nurse noted that there were many diseases of the eye which included glaucoma, cataract, pterygium, ptosis, strabismus, phthisis bulbi, refractive errors and allergies.
She said trauma, ageing, diabetes, congenital, hereditary, harsh weather, smoke, dusty environment and the scorchy sun were some basic causes of these diseases.
Mrs Serchie said people must be careful how they handled sharp objects, avoiding hitting any part of the body including the eye, adding that glaucoma was a blinding disease that showed no signs.
The Nurse noted that regular check-ups could help track glaucoma to enable the disease to be seen and managed since its effect was irreversible.
She urged the public to have their eyes checked every six months and visit health facilities that had eye clinics, while urging people not to wait till they went blind before seeking help.
The Nurse noted that it was important for people who brought eye conditions to health facilities or eye clinics to adhere to directives including dates given them for follow-ups.
Mrs Serchie also called on people to make eye clinics their first point of call when they experienced eye conditions.
Source:Graphiconline
Man bolts after impregnating visually impaired; lady hunts him
A visually impaired woman is ready to walk all four corners of the world in search of her lover who bolted after impregnating her.
Simply identified as Ruth, the challenged woman's quest to locate her lover saw her travel from Ablekuma, Accra, to Kumasi in a bid to make the public announcement on Nhyira FM's Obra show.
Ruth's mission in the studio was not just to appeal to all listeners to help her locate Kwaku Arhin, but to seek a 'Good Samaritan' to adopt her child so as she furthers her education.
Detailing how her then romantic relationship started, she recounted how they became friends after Mr Arhin assisted her to cross the busy Accra road, during a walk to a venue for a youth seminar on reproductive health.
Their roadside friendship ended in a one-night stand in a guest house some days later. After their path crossed again, the one-time escapade bloomed into multiple sexual encounters and sleepovers.
That in itself was not an easy game for the visually impaired woman in her twenties. It took some aids to walk her to the significant spot, after which they stood in wait for Mr Arhin to show up and take his turn in being her eye.
Misfortune knocked on her door three months later when she discovered she had taken seed, for which Mr Arhin vanished into thin air despite admitting responsibility.
All he contributed during the pregnancy and subsequent childbirth was a sum of GHS 210 – GHS 150, GHS 30, GH S30 – in that order, after which he went off.
All efforts to trace him have proven futile, especially at a time their eight-month-old son is suffering a chronic childhood illness.
Unfortunately for Ruth, the only identity she has of him is his name and the fact that he is tall. She is, however, positive she can make him out should her aids assist in fishing him out.
Also, Ruth dropped a bombshell when she added in the interview that she is ready to give up her status as a mother in a bid to pursue her embattled education.
Specifically, she is willing to gift out her baby to any good person, on the condition that she would not be denied a visit.
This, she said, would enable her to continue her Senior High School (SHS) education from SHS 1, a stage she was at Okuapeman SHS before dropping out.
Source:Adomonline