Finding a lucrative spot in sweet potato farming – Farmer highlights its profitability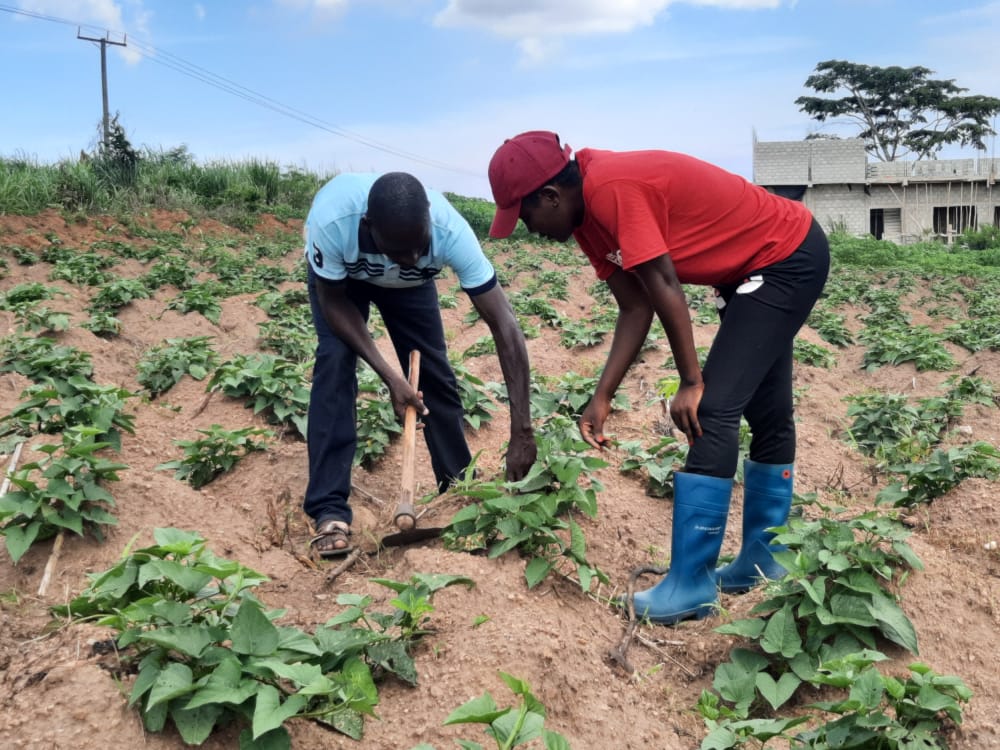 Emmanuel Ashiabie has been a farmer for the past 30 years and has in recent years found a sweet spot in the production of sweet potatoes, describing it as a lucrative venture.
Based in a town known as Aberful; Awutu Senya in the Central Region, Mr. Ashiabie who started farming at age 19 is currently promoting the cultivation and consumption of sweet potatoes for maximum profit.
The farmer in an interview with the Ghanaian Farmer TV Show said he is happy with his harvest.
A tuber of sweet potato takes only three to four months to mature and in a good year, Mr. Emmanuel Ashiabie makes about GHC10,000 on an acre of sweet potato farm.
"An acre of sweet potato farm in good season can give you 50 of the 100KG sacks. And the price range is from GH100 to GH200 depending on the season and its availability," he told the host of Ghanaian Farmer, Enyonam Manye.
Sweet potatoes require fewer inputs and less labour compared to other food crops like maize and cassava; this explains why the farmer diverted into sweet potatoes farming on a large scale.
"I was much more into cassava and maize farming and sweet potatoes were on a small piece of land. I started to do it on a large scale after I realised it's more profitable with the ready market," Mr. Ashiabie explained.
According to the International Potato Centre, an agricultural research organization, sweet potatoes are also hardy and more tolerant to harsh conditions like dry spells and poor soils.
The tuber can also stay in the soil long after maturity, making the time of harvest less critical.
Mr. Emmanuel Ashiabie who manages Emash Farms threw a challenge to other farmers to invest in sweet potato production as the profit is enormous.
While explaining why he chose to plant the white-fleshed type, he stated that it's quite easy and doesn't require a lot of water to perform well unlike the orange-fleshed one.
"In a good season, you can get more than 10 tubers of sweet potato on vine after harvest. If it's affected by bad weather patterns, you should be getting five or six. Even with this, you won't make losses."
"The best season to plant sweet potatoes and get a good price is between May and September.  It can be grown twice in a year."
Challenges
Meanwhile, Mr. Ashiabie highlighted the challenges he faces as a farmer and one of the major ones is how real estate companies have taken over majority of the farmlands.
"Farmlands have become scarce because the estate companies have bought almost all of them. I used to rent 10 acres of land but that's not the case anymore. We can't get it to rent like before.
He appealed to the district to provide them with farming machinery including tractors as it is always a challenge hiring one during the farming season.
Forming Association
To help address the challenges in getting financial support, Mr. Ashiabie has planned to form a farmer-based organisation for potato producers. He said this will also help address poor pricing from the buyers.
"Potatoes are a cash-crop which can also be added to Ghana's commodities for export. A lot of people in this area have stopped maize and cassava farming and are into potato production," he added.
He acknowledged that the government's subsidy on fertilizer has been helpful.
He expressed gratitude to Crocodile Matchets for supporting farmers in diverse ways.
Value Addition To Sweet Potatoes
Aside from selling sweet potatoes in its raw form to local markets, the farmers are optimistic that the establishment of a factory in the Awutu Senya area can help sell value-added products made from sweet potatoes.
This can include sweet potato flour for bread as one of its products. Sweet potato flour can also go into snacks like cakes and pies.
Source: myjoyonline.com
Over 5,000 farmlands destroyed by floods, food shortage imminent – NADMO
The Upper West regional Coordinator of the National Disaster Management Organisation (NADMO) Ahmed Mustapha has warned of a possible food shortage if the Ministry of Food and Agriculture fails to institute interventions immediately to deal with the effect of floods in the Upper East region.
He revealed that some five thousand acres of farmland have been destroyed by floods in the area over the last six weeks.
He indicated that the region has been a the largest producer of maize but with the effect the floods, there is going to be challenge in the production of the commodities.
"As at last week, the total acres that have been washed away by this flood in the Upper West region is about 5000 acres of farmlands. Half of this figure is on the Wa East district and the food basket of the Upper West region.
"The Sisala enclave, from the Wa East, Sisala East and Sisala West, they do a lot of farming and they were the highest producer of maize as at last year.
"So when we sense food insecurity people should take interest in what we are talking about," he told Alfred Ocansey on the Sunrise show on 3FM.
Source: 3 News
Hawa Komsoon gets tough on Fisherfolk; suspends 4 communities over premix
Supply of premix fuel to four landing beach communities in the Central Region has been suspended indefinitely due to illegal fishing activities in those areas.
The communities are British Komenda, Dago, Abandze and Moree.
A statement by the National Premix Fuel Secretariat said the action was a punitive measure for the communities engaged in light fishing and other illegal fishing practices.
"This is to inform you that following a directive by the Minister of Fisheries and Aquaculture Development, Ms Mavis Hawa Koomson, premix fuel supply to some landing beach communities in the Central Region will be suspended indefinitely," the statement said.
By letters to the chief executives of the Komenda Edina Eguafo Abirem (KEEA), Abura Asebu Kwamankese, Mfantsiman, and the Gomoa West district assemblies, the secretariat explained that: "Light fishing and other illegal fishing activities perpetrated by fishermen is viewed seriously by the Ministry of Fisheries and Aquaculture Development (MOFAD) and its agencies because of its negative impacts on marine stock and industry growth.
"The National Premix Fuel Secretariat and, indeed, MOFAD is aware that premix fuel, which is subsidised by government, is regrettably used to fuel generators for the illicit practice of light fishing."
Fisherfolk react
However, the President of the Canoe and Fishing Gear Owners Association of Ghana, Nana Kweigya, told the Daily Graphic that the directive was a selective enforcement of the laws on illegalities in the fisheries sector, and that it would not help efforts to solve the problems in the sector.
He said the fight against illegalities was haphazardly being implemented, stressing that other illegalities — including the use of monofilament nets and undersized nets — were going on in many other communities.
Nana Kweigya observed that in Abandze, for instance, while artisanal fishermen observed the relevant regulations not to use light for fishing, some inshore fleets were landing fishes caught with light.
"There is no fishing community in Ghana where there is no illegality. In every fishing community, there is one illegality or the other. For what reason are these communities selected as culprits," he queried.
"We complained to the ministry, but nothing was done about it. The ministry itself has given the tuna vessels permission to use light for fishing. Where are we going with this?" he queried.
Scapegoats
Nana Kweigya said it was obvious that the ministry was only using smaller, less agitative communities as scapegoats while the main culprit communities were being ignored.
He noted that the fishermen were committed to efforts to rebuild the fishery stocks, but stated that it was important for the ministry to meet with all stakeholders to seek general compliance.
Ghana recently was issued a "yellow card" by the European Union, and risks a more serious sanction, if illegal fishing practices persist in the country's waters.
Source: Graphiconline
MoF supports 75,000 fisherforks during closed fishing season
Government, through the Ministry of Fisheries and Aquaculture Development, supported over 75,000 people along the coastal communities with food items during the closed fishing season.
The intervention was to reduce the effects of the closed season on livelihoods of fisherfolks and promote compliance.
Mrs Mavis Hawa Koomson, the Sector Minister, who announced this during the Minister's briefing in Accra on Sunday, said 15,000 bags of rice and 6,250 cartons of cooking oil were distributed to over 75,000 people along the coastal communities.
The Ministry also distributed approved fishing nets to some fishermen in the Volta and Central regions.
The closed season occurred from July 1 to August 312021 which covered Artisanal and Inshore fleets and Industrial fleets to ensure the fishes rejuvenated and grew into maturity.
Mrs Koomson also announced that the government was acquiring four patrol boats to help the security agencies guard the marine life and ward off fisherfolks who over exploited the country's sea waters.
The four patrol boats would be deployed in each of the four coastal regions namely; Central, Greater Accra, Volta and Western regions.
This would facilitate frequent inspection at sea, offshore and for prompt response to detecting infringements at the VMS centres, the Minister stated.
She also explained that the acquisition of the boats would also accelerate the fight against piracy on the West African coast.
The Minister said a research vessel would be procured soon to aid a scientific analysis of marine life.
"Research vessels are important means through which the condition and change in marine ecosystems and marine fish stock can be assessed to define allowable catch quantities," she added.
She believed the procurement of a research vessel would help bridge the current gap within the "fisheries sector's ability to obtain marine data to support effective management of marine.
On washing of dead fishes ashore in April this year, Mrs Koomson said the Water Assessment Examination conducted by the Fisheries Commission revealed that the fishes in Osu died because of low oxygen concentration in their tissues.
That condition in the sea water caused a stress to the fishes leading to their death.
Additionally, the dolphins that were washed ashore in Accra, and Brewire-Akyenim in the Nzema East of the Western Region died because of drastic temperature change and sonar disturbance leading to trauma, dehydration and suffocation under the collapse of their weight.
She said those factors were natural and could therefore not be prevented.
Source : GNA