Bride leaves wedding to write exams in her wedding gown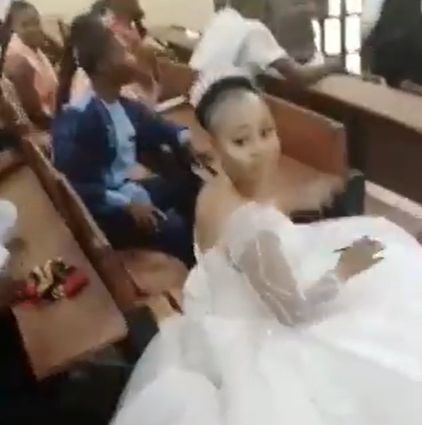 A video of a Nigerian woman has gone viral after she stormed her school's examination hall to sit for her exams on her wedding day.
The bride who is a student of the University of Abuja caused a massive spectacle on campus after arriving in her white ball gown, in the company of her husband.
A video, shared online, captures the moment the student took her seat while her colleagues simply stared in dismay.
In another video, the lady and her groom were seen walking out of the examination hall, which attracted lots of students acting as paparazzi.A lady in the background was heard asking "God when?"
Source:adomonline
Odartey Lamptey: I will do whatever it takes to evict my ex-wife
Former Ghanaian youth star, Nii Odartey Lamptey says he will do whatever it takes to evict his ex-wife from his seven-bedroom house at East Legon following the dismissal of her latest appeal today in Accra.
Odartey's ex-wife, Gloria Appiah wanted the Court of Appeal in Accra to grant her ownership of the ex-Ghana international's seven-bedroom house as compensation after their much-publicised split in 2013.
Speaking with Kasapa FM, shortly after the appeal was dismissed, Odartey Lamptey said the Court has directed Madam Appiah to move from the house immediately.
The former Aston Villa star said he was grateful to God for enabling him to endure the eight-year legal tussle.
"We will do whatever now to move her from the house, as soon as possible," Odartey Lamptey said.
Background
The relationship between Odartey and Gloria hit the rocks in 2013 after DNA results revealed that he was not the biological father of his three children after 20 years of marriage.
Lamptey insisted that he never asked his estranged wife to sleep with other men to get pregnant for him after allegations that he was impotent.
He now has biological children with his partner, actress Ruweida Yakubu.Lamptey owns the Golden Lions Soccer Academy and Glow Lamp International School.
Source:Graphiconline.com
Stop sending 'fare' to her; a lady accepting money sells herself-Expert
A man worth his salt will ask a woman out on a date and not send her fare. The woman accepting fare to show up for a date sells herself short.
What happened to a woman making the decision to invest her time and other resources for a date? What is this weird trend about men sending 'transport' to women? When did our men lose the skill of wooing a woman to the level of bedazzlement? Did the lyrics run out?
What happened to be a well-informed, humorous conversationalist such that a woman would love your company and show up – by her own means – for a date with you? Why would I accept a man to pay the cab, or bus for me when I can pay for it? Doesn't it take away my power of decision when I ask a man to send me fare for showing up at our date? What is going on, good people?
In my time – I see you roll your eyes and call me a dinosaur – we saved up and met on an equal footing. Be it that first date ever after high school when I borrowed our neighbour's lipstick to sneak in for an ice cream date with my fellow teenage crush, to our first-ever date with Hubby as a career woman, I paid for my fare at the least. He footed the first bill, but on our second date, I paid for our drinks.
We have a problem. First of all, today's man no longer feeds his brain. Gone are the days when we exchanged books, read great minds, discussed themes and plots and visited mysterious places through the pages of a book.
Today's man is this shallow-minded keyboard warrior consuming hate-filled posts and spewing the same right back. He has nothing tangible in the form of brain matter to offer a woman. So what does he do? He buys her affections with a measly mobile money loan. A man worth his salt will ask a woman out on a date and not send her fare. He expects that she will be interested enough to meet him. The woman accepting fare to show up for a date sells herself short. How does she not see this as an insult to her person? 
Monthly allowance?
Never give a woman your ATM card. It's a sexist statement, I know. But if money is all that you show a woman, then that is all that she will value you for. When the money runs out, do not be stunned that she will also pack and go.
I was shocked to learn that there are wives who receive a monthly allowance from their husbands. I complained to our couple mentor, that my husband does not give me a special allowance. Never mind that we have a family budget that includes our allowances to do as we deem.
"A woman feels good to receive some money from her husband, even when she has her own."
This statement from our friends softened Hubby's heart and he gave me his ATM card and, of course the PIN. I do not know what tender he had walked into as he had managed to load the debit card with some substantial cash. By coincidence, it is at this time that I realised how ancient and threadbare our curtains had become. I replaced them and had the curtain rods redesigned. Our kids needed a wardrobe upgrade, Hubby too, and since Toi Market does not accept card payments, I went to the shopping malls.
Our mattresses needed the waterproof covers I had seen advertised, and I got that sorted. Our sofas were an eyesore. Hubby took the ATM card back before I could get the seats sorted. This got me extremely upset, and I wondered then of what purpose was a husband when he could not let me have his ATM card without grudging about it. His worth seemed to have been temporarily tied to that money card.
The minute he withdrew it, I was forced to once again use my brain and hands for an honest day's work. A wise thing he did, too, seeing as Covid-19 came along and 'shown us things' as we Kenyans say when we can't find a fitting description of a terrible experience. We are changing the seats even without his ATM card. Gentlemen, stop sending fare. If she sees your worth, she will show up, even if you are in Lodwar.
Source:Karimi Gatimi of Nation Kenya
Uncle Ebo opens up on struggle with masturbation, shares tips on how to break the addiction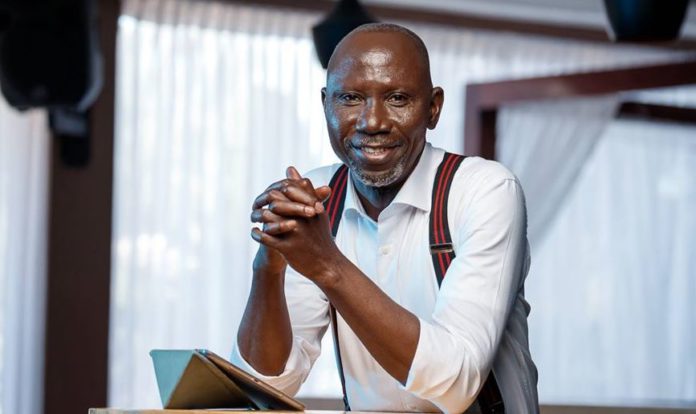 Playwright and life coach, Ebo Whyte has revealed how he overcame an addiction to masturbation when he was in his 20s.
In a Facebook post advising young people on how to beat the addiction, he shared how confessing to his fellow church leaders at church led to rebuke and stigmatization.
"Interestingly after the meeting, some of the other leaders came to confess to me that they were guilty of the same," he added.
Unable to get any answers from there, he "embarked on a personal retreat at the beach, to wrestle with God until I hear from Him. But after about 30 minutes I had a strong urge to go to church, it was a Sunday. I did and the sermon was for me, from Romans 7."
Uncle Ebo stated that the sermon taught him that he was "not a pervert" and with "that knowledge, somehow I was able to move away from masturbation," he added.
He advised the youth to recognize that "the body and spirit are at war", therefore if one desires to stop living in sexual sin, they need to tackle the issue from the spiritual front.
In order to do that, he emphasized the use of Scripture to combat those proclivities.
He narrated an incident where a visit to his would-be wife brought on some urges he could not control.
"I went to visit her but as I approached her house, 'Kojo Mensah' started to respond. I was getting an erection! I broke into tongues but the harder I prayed the harder the erection got.
"I cried to God: "How do I stop living in sexual sin?" God directed me to wield the Sword of the Spirit – recite memory verses on holiness and purity and as I did, the erection dissipated. And we were able to stay off each other until we went to the altar.
For those trying to overcome any addiction, Uncle Ebo advised, "take one day at a time; celebrate the victories but if you fail, tomorrow is another day. Hold yourself accountable to someone and confess your sin to him/her."
"Finally, remember at certain levels of addiction, willing yourself to quit doesn't make you stop. It's warfare."
The Roverman Productions lead writer is hosting 'My Next Relationship Webinar, MATTA DEY 4 – "LET'S TALK ABOUT SEX". It comes off on Sunday, May 30 at 5:00 pm via Zoom.
Source:myjoyonline.com