A tale of two great Ghanaian musicians: Agya Koo Nimo vs Kojo Antwi
When one carefully listens to songs by Ghanaian musical legends Agya Koo Nimo and Kojo Antwi, one will notice that they are imbued with deep knowledge of our Ghanaian music culture; devoid of profanity, are proverbial and full of wisdom and advice.
The two artistes are like institutional libraries and despite their different musical genres, they share an identical music philosophy and have significantly impacted their generations. Interestingly, they have a father and son relationship with Kojo Antwi who said he used to enjoy Koo Nimo's songs as a child whenever his father Agya Asiama played them on his gramophone.
Okomfo Anokye myth
Koo Nimo and Kojo Antwi have songs about Okomfo Anokye; Kojo Antwi dedicated his second album Anokye to the memory of Okomfo Anokye and King Osei Tutu I, who combined forces to build the Ashanti Kingdom.
Agya Koo Nimo, who has also served at the Manhyia Palace for more than five decades, was also inspired by the historical narrative of Obiri Komfo and dedicated his song Komfo Anokye to the memory of the great priest.
Jesus Christ
Before Kojo Antwi released his song "Spread His Love", which talks about how God, out of love sent his begotten son Jesus Christ to die and save mankind, Koo Nimo had "Fiada Mo Ne Ko" and
"Osabarima" that centre on the sacrificial death of Jesus on Good Friday.
Coincidentally, both artistes, known for secular music, dispelled people's notion that every non-Gospel song was known as "Ewiase Dwom," literally meaning "worldly music" and used their song writing prowess to spread the good news about Christ.
Travel experiences
Their personal experiences have inspired them to write songs about the difficulties Ghanaians go through when they seek greener pastures.
For instance, the lyrics of Koo Nimo's song Aburokyire Abrabo and Kojo Antwi's Atentenhuro dwell on the unbearable life that Ghanaians go through and reflect their own stories when Kojo
Antwi lived in Denmark, Switzerland and Germany and Koo Nimo studied in the United Kingdom.
Love songs
Kojo Antwi has deep respect and admiration for Koo Nimo, and the man popularly known as Mr Music Man was inspired by Koo Nimo's love songs such as "My Dear Comfort", "Naa Densua", "Odonson", "Odo Nua", which were hits in the 50s and 70s.
As an up and coming artiste, Kojo Antwi dreamed of singing such love songs and decades on, he has become a master of many romantic songs including "Akonoba", "Akuaba", "Dade Anoma", "Menya Ntanban", "Groovy", "Rocklyn", "Bo Me Nkomo De" and the power of his vocals and irresistible rhythms add a unique flavour.
Death
Death is inevitable in the life of every living being and Koo Nimo's songs, "Owuo To Ne Ade To Bi" and "Owuo Te Se Nnoboa", emphasise that mystical phenomenon.
Kojo Antwi is also known for hit songs "Adinkra", "Maye Osaman" that centre on death and the impossibility of escaping it. These two great songwriters and singers believe death is natural and part of the cycle of creation.
Politics and party endorsements
Koo Nimo witnessed colonial rule and has seen all successive governments up to the Akufo-Addo administration but has never done a political song or associated himself with any political party.
Rather, he prefers to keep to his musical philosophy of love, death and moral values but not party politics.
Kojo Antwi also prefers to do his music rather than get involved in politics to jeopardise his impressive music career.
As he told the Daily Graphic during the 2020 political season: "It is a personal decision and if anyone decides to do it, they may have their reasons, but me I say no, I was a musician before JJ (Rawlings) came to power, he left; President Kufuor came to power, he left; President Atta Mills came to power, he left; President John Mahama came to power, he left and now President Akufo-Addo is in power and I'm still here."
Awards and music administration
Koo Nimo was President of the Musicians Union of Ghana (MUSIGA) for 10 years, and served as interim Chairman of COSGA, now the Ghana Music Rights Organisation (GHAMRO) which Kojo Antwi headed as its first elected Chairman.
Both were not spared verbal attacks and unsubstantiated allegations by members during their administrations. The two have won multiple awards both locally and internationally and are a driving force in the music industry with high levels of musicianship.
The writer is a Research Officer at the Copyright Office of Ghana.
Source : Graphiconline
We'll host 15k tourists for 'December in GH' initiative – Deputy Minister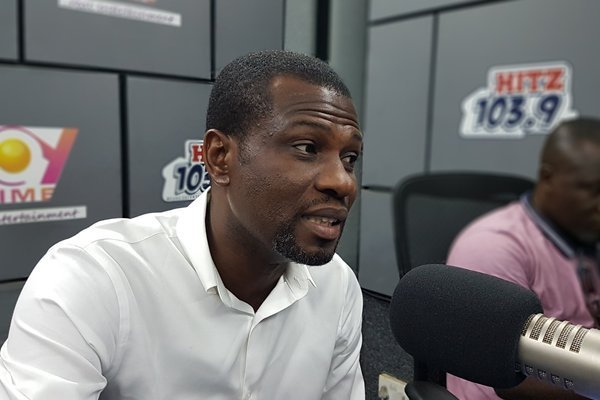 The Deputy Minister for Tourism, Arts and Culture, Mark Okraku Mantey has said the country expects to receive over 150,000 tourists between now and the festive season for the 'December in GH' initiative.
The 'December in GH' initiative is one the activities launched by the Ghana Tourism Authority (GTA) to mark the 'Beyond the Return' initiative which is also aimed at boosting the country's economy through tourism.
Speaking in an interview on Day Break Hitz on Thursday, the Deputy Tourism Minister stated that more investors and businesses are expected to troop into the country during the festive seasons.
He indicated also this is another way to market Ghana's rich potentials in tourism to the global market and also aid the sector in contributing to the Gross Domestic Product (GDP) of the country.
"We are looking for about 150,000 people entering the country. The reason why we are looking for the 150,000 people is that we want the Tourism, Arts and Culture industry to lead in contributing to the GDP of this country."
"We must take some decisions, and one of them is what we are doing and that is why the Minister is in New York now; the bottom-line is profit for private sector so that the private sector can pay taxes to government," he told Andy Dosty.
Despite the ravaging effects of the coronavirus pandemic on travels, the Ministry says it is embarking on a number of activities from now to the Christmas season to attract foreign investments.
The Ghana Tourism Authority (GTA) earlier outdoored new activities as part of the 'Beyond the Return' initiative after engaging event organisers.
These include AfroChella, the Polo Beach Club, Rethemes on the Runway, GUBA Awards, Taste of Ghana, Quanza in Ghana and The Diaspora Transition Conference.
Director of the 'Beyond the Return Secretariat', Annabelle McKenzie, in a press release noted that there will be events across all the regions to give travellers the opportunity to explore other parts of the country.
Mark Okraku Mantey explained that these events have been approved by President Akufo-Addo, yet, there will be strict adherence to all COVID-19 protocols.
Visitors would be required to present their vaccination cards before they will be permitted to get access to event venues.
Source:Myjoyonline
Funeral rites of Gbawe Chief: Traders clash with Traditional Council taskforce
Some traders at Mallam in the Weija-Gbawe Municipality have clashed with the Gbawe Traditional Council taskforce over refusal to close their shops.
The Council issued a directive for all shops in the Gbawe enclave to be closed in honour of the ongoing rituals for the final funeral rites of Nii Laryea Faamlite II, the late Gbawe Chief.
However, some traders disregarded the directive saying the area was not part of the Gbawe jurisdiction and, therefore, should be exempted from the closure of the shops.
The Ghana News Agency (GNA) gathered that the situation got tense on Wednesday as the traders and the taskforce engaged in hot verbal exchanges, resulting in near fisticuffs.
Some roads leading to Gbawe Chief's Palace were blocked with car tyres while public and private schools in the area had been closed down for the week-long funeral rites.
The GNA spotted the Police patrol team at the Gbawe suburbs including Top-Base, Oblogo, Bulemin, Baaley and Zero.
The Traditional Council said the Chief died on October 14, last year, after 26 years reign.
He was 72.
Source :GNA
'The Anlo spirit must rise' – Togbi Nyaho Tamakloe
Togbi Nyaho Tamakloe VI, Dufia of Whuti, Paramount Chief of Kome-Shime and Miafiaga of Anlo has said he is ready to help in any way possible to see to the progress of his people and the Anlo state.
The newly installed chief said there were lots of good qualities of the Anlo-Ewe that must be harnessed to bring the needed transformation in not just Anlo but in the entire Volta Region.
Togbi Tamakloe, who at his outdooring ceremony on Saturday at Whuti, a beautiful township known for its quiet ambience and some historic tourist sites opened his speech with "Anlo must rise" and concluded with "the Anlo spirit must rise."
He is hopeful that dream could be achieved with a united front, shots at development projects and the compassion of natives in the diaspora towards the land.
"We ruled Ghana more than any other group of people in Ghana. We made a lot of sacrifices for the good of this country. We can also use the same energy to serve our people. We're highly educated, resourceful and all the other good qualities. I have come to help and to work with you," he said.
The Chief Administrative Officer Consultant in Canada and President of Ghana Friendship Association of Edmonton called for unity among the chiefs and people to allow for development projects such as "dredging the Keta Lagoon to have the biggest man-made fish pond in the universe," and diversifying agriculture to benefit the teeming unemployed youth.
The widely travelled Togbi Tamakloe also called on sons and daughters of Anlo in diaspora to "come back home and help the state as a matter of conscience" to make it a place they would want.
The outdooring ceremony chaired by Mr Alex Kwasi Bruks, founder of Bruks Associates and which saw a display of rich tradition and culture, had chiefs from all three wings of Anlo State (left, middle and right) including; Togbi Gbordzor III, the Dusifiaga of Anlo, prominent citizens and members of the diplomatic corps who included Mr Eliphas Barine, Kenyan High Commissioner to Ghana and Awoki Panassa, the Togolese Ambassador to Ghana.
Ms Grace Jeanet Mason, South African High Commissioner to Ghana who was the Guest of Honour spoke of the immeasurable contributions of chiefs and queens to the socio-economic development of the people and prayed for the Almighty's guidance for Togbi Tamakloe to lead his people to prosperity.
She said her first ever visit to the region showed Volta which she called a "place of beauty" with "prestigious beaches" offered tourism potentials that could be developed to create jobs saying, corporation between Ghana and South Africa in tourism and arts and culture could be beneficial to both countries and called on traditional leaders to contribute towards that corporation.
The 58-year old Togbi Nyaho Tamakloe VI, known in his private life as Mr Ezekiel Keli Tamakloe, holds a Master of Business Administration and a Sociology major with a Diploma in Education, is a former Edmonton Police Commissioner.
The recipient of several leadership awards including National Honours award, Achievers of Ghana, and Lifetime Achievement award recognition, has lived in and travelled through North America, Europe and African countries including Zimbabwe, Swaziland, Zambia, Botswana, Togo and Kenya.
Source :GNA